Hello, all!
Since it's been awhile since I've had cause to provide an update on my writerly progress, I figured now would be as good a time as any. Additionally, I thought this would also be a good opportunity to shed some light on a number of things that have been making my personal process a bit smoother of late.
I don't know what kind of summer (or winter for those of you on the opposite side of the globe) everyone else has been having, but mine's been fairly busy–which has made focusing on my work, even on the days when nothing else demands my attention, quite a bit more difficult. So much so, that I've gone to bed feeling discouraged most days, regardless of the fact that even a little work is better than none at all.
However, in the past week, I've found it easier to fill my personal writerly quota per day, and I think two things in particular have helped me a great deal in that regard; more so in relation to working on Shadow & Flame than on Arcane Guardian, given the similar themes between the former and these two specific things. But I think in this case, the adage, "What is good for the goose is good for the gander" applies. At least to a point.
So, I don't recall if I've mentioned this in past entries or not, but Shadow & Flame is intended to have a sort of urban fantasy, supernatural crime noir feel to it. That's at least what I'm hoping for anyway, and the feeling I often try to harness and convey while writing it. What seems to be helping me out of my most recent "not quite, but on the cusp of being one" rut is:
Watching Gotham,
and
2. Reading more of The Dresden Files.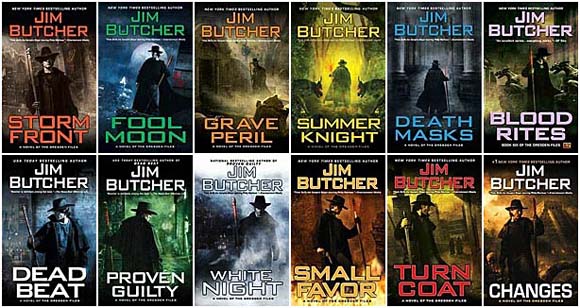 The first I've only recently gotten into, as I've been in something of a Batman mood lately, and my fascination with some the villains seems to be a thirst I can't quench.
(Yes, I know, that's not a scene from Gotham. So far, the Dark Knight trilogy version of Dr. Crane is still my favourite movie/show representation).
What tipped me off that watching the show was helping was the fact that, while watching it, I found myself going into full-analysis mode–without even trying. I couldn't help but wonder about characters as they were being introduced; their backgrounds, what led them to where they are, and the direction they were headed in. I found myself focusing on their expressions and body language, things tipping off the catalysts for these soon-to-be criminals, and recognizing when a tip-off was to be the first of many before things officially came to a head.  On top of that, I started paying a great deal of attention to environment, something I've been sort of blind to lately, being overly distracted by one thing or another. It was like seeing things for the first time.
This isn't new behaviour for me in the slightest, regardless of how it feels every time it makes an appearance after a long absence. I've done this with many a movie, show, or videogame, though most notably while not on a writing streak. This, I feel, is helping monumentally in the way I convey my own characters and their circumstances, given the gritty, yet corny feel that is Gotham.
As to The Dresden Files; for those of you who don't know it, it's a book series a friend introduced me to a couple of years ago, and one I've been steadily collecting between other novels. As I've been reading three of them back-to-back, they've become the proverbial kindling for Shadow & Flame, given the kindred investigative, cloak-and-dagger natures of their storylines.
Mark me–I'm not copying the plot lines of either Gotham or The Dresden Files, but merely drawing from the overall tone they exude; essentially, I'm drawing from the narrative style, without actually losing my own (which, to be honest, I'm not entirely sure what to classify it as; I've no name for my style whatsoever).
In any case, as stated before; it may not be a big help in regards to Arcane Guardian, since it isn't supposed to be of a noir persuasion, but I think the simple act of being able to tap into a well of inspiration, of being able to apply it to one of my novels, allows me to draw from the creative well in general.
That about sums things up, on the inspiration front. So, how about it? What kinds of things do you draw on when you're in a bit of a rut? What do you find inspiring you lately, or what do you find inspires you on a near-daily basis, from one project to another–be it writing, drawing, sculpting, music, what-have-you? Feel free to drop me a line in the comments.
Until next time, ta-ta for now! ^^