Hey, everyone!
As some of you may remember from nearly a year ago, I started a blog series in which I paid tribute to indie and small-press authors. The publishing industry is vast, and yet for all that vastness, it's tightly packed with all manner of writer.
Like salmon swimming upstream, it's easy to miss an individual fish among thousands of others. That's why I want to help shine a light on some of my fellow indie authors–not just because I am one too, but because I've read their works and found them to be thoroughly enjoyable.
In Part One, I paid my respects to J.L. Weaver, Austin Hackney, Rhon, Ellicia Dawn, and Caitlin E Jones (whose full-length novel I'd eagerly been awaiting at that time, and has since been published; you can get your copy of Chimehour here.)
In Part Two, I paid my respects to David Gowey, Joshua Grasso, Katie Masters, JB Sargent, and Kara Jorgensen.
Now that I've read quite a few more indie works, it's time to give them some love in Part Three. Without further ado…
To kick things off, let's start with an author whose work (much like others I've come to adore) I first found on Wattpad some years ago: Danielle Koste!
While Danielle has other published works, the one I was most eager to have was this one:
The synopsis is as follows:
Violet Holt has already met Death once.
After a failed suicide attempt, she finds herself dumped by her callous mother on the doorstep of her family's desolate oceanside estate. With only the company of her estranged grandmother, comatose grandfather, and the monsters in her head, at least there was no one to interfere with her plans to try again on her eighteenth birthday.
No one, except maybe Jack: a skeleton of a boy who says he's there to rake her grandmother's leaves, yet seems more experienced at stalking than grounds-keeping. She knows he's keeping a secret behind his gentle smiles and aloofness, but it's difficult for Violet to be put off by his untimely thin-air appearances when figuring out the mystery of his true identity makes for such a good distraction.
Violet's trauma is deeper than the wound on her wrist though, and it cannot be simply whisked away in a whirlwind of guessing games and pleasant gestures. She struggles to reconnect with her grandmother, find forgiveness for her mother, and closure with her grandfather's dire condition, all while battling the strain of it all on her family. Even with a flicker of something hopeful blossoming within herself, Violet knows her birthday plans must be inevitable.

Death wouldn't be there for her if it wasn't.
As you can see from the synopsis, the story does contain heavier, somewhat darker themes, so for anyone who might be triggered by themes of suicide, depression, or otherwise afflicted with mental illness, I do urge caution if you wish to read this story. Despite the story's heaviness, it does contain a healthy dose of hope, so anyone who enjoys bittersweet reads, this contemporary might be up your alley.
The next author is another I found in the Wattpad community (anyone else getting deja vu?)–Melissa Mitchell! I have yet to read the polished version of her most recent release, Talon the Black, but I will be remedying that soon. And I as I did read earlier drafts of it and found it enthralling, I can attest to her writing talent.
To give you an idea of just what this epic, dragon-shifter/portal fantasy is about, here is the synopsis:
What would you do if a dragon fell from the sky? Claire Evans is a small-towner from Indiana faced with this exact situation. When a dragon crash-lands in her corn field, she goes gallivanting off to find it.
This incident triggers a chain of events that sweep our heroine into a complicated plot to destroy a kingdom. At the heart of it is a powerful sorcerer whose only desire is to bring about a past long forgotten, a past that favors those of magical blood and condemns those who are not worthy, a past that would result in the annihilation of peace and the deaths of many.
Claire finds herself thrust into an old fashioned world liken to those she's grown up reading about, one of fantasy and intrigue. There, she soon realizes that a lifetime of books hardly prepared her. She must face difficulties never before confronted, and in so doing, discover secrets about herself. All the while, there is one obstacle that ultimately stands in her way: The King of Dragonwall. And she needs him on her side if she is to succeed. Will such a thing be possible?
The King of Dragonwall is not like those before him. Troubled and temperamental, he is scarred by more than the events that shaped him. Worst of all, he is mateless. With no queen and no heir, his subjects are demanding he abandon tradition and marry into nobility. But with the rising threats upon his borders, goblin unrest to the east, and talk of an even darker terror to the north, he will soon have far greater problems than that of finding a wife.
Modern meets medieval in this first installment of The Dragonwall Saga, which is full of magical creatures and adventure. In addition, there are a variety of interesting characters, and even a dose of romance.
A book of hers I have read in its published version, however, is this one:
The synopsis is as follows:
"If only ballerinas knew what vampire blood could do for their dancing."
In Anghor Manor, there is always a choice. When ex-ballet dancer Celine sees something she shouldn't in the alleyway outside of Vienna's hottest nightclub, Fluxx, owned and frequented by vampires, she is offered three choices. Each choice is as frightening as the next. Unable to make up her mind, Cece bides her time. She wrestles with memories of her old life, a life she was forced to abandon when a devastating injury ended her ballet career. Now she must pick up the broken pieces and move on, but moving on offers its own challenges, especially when Caius, lord of Anghor Manor, offers her something more precious than gold. Blood and Ballet is a young adult novel with a fresh take on vampires, blending together the world of ballet with age old ideas, while adding a dash of Roman history. Transport yourself to Anghor Manor nestled in the countryside just outside of Vienna, where vampires lurk, blood rules, and romance awaits.
Blood and Ballet is a curiosity in this day and age, as I can't liken it to something else. Yes, it's a vampire story, but it's nothing like the vampire stories I've read. Not like Anne Rice's various works, nor like the boom of Vampire paranormal romance novels that swept YA some years ago. It stands in a category all its own and is very much character-driven, with many a subversion on the usual contemporary and paranormal tropes. If you like paranormal romance but want something with a fresh twist, I encourage you to give this novel a read.
While this next author might be the last for this blog entry, they are by no means the least–nor are they the last I will be spotlighting. Keep your eyes peeled for Part Four and Five later this month. Until then, please show some love for D.N. Bryn!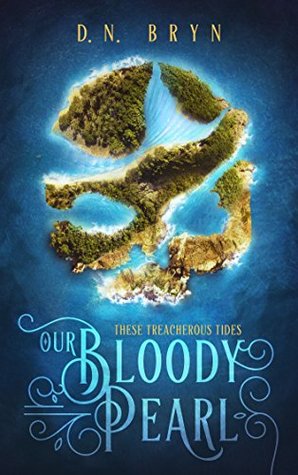 This was probably one of my favourite reads of last year, and I doubt I'll ever find another to equal its narrative. But I'll let the synopsis tell you all you need to know about this tale:
The ocean is uncontrollable and dangerous. But to the sirens who swim the warm island waters, it's a home more than worth protecting from the humans and their steam-propelled ships. Between their hypnotic voices and the strength of their powerful tails, sirens have little to fear.
That is, until the ruthless pirate captain, Kian, creates a device to cancel out their songs.
Perle was the first siren captured, and while all since have either been sold or killed, Kian still keeps them prisoner. Though their song is muted and their tail paralyzed, Perle's hope for escape rekindles as another pirating vessel seizes Kian's ship. This new captain seems different, with his brilliant smile and his promises that Kian will never again be Perle's master. But he's still a human, and a captor in his own way. The compassion he and his rag-tag human family show can't be sincere… or can it?
Soon it becomes clear that Kian will hunt Perle relentlessly, taking down any siren in her path. As the tides turn, Perle must decide whether to run from Kian forever, or ride the forming wave into battle, hoping their newfound human companions will fight with them.
This is very much a heart-warming own-voices read, and one I highly recommend to anyone looking for something fresh, belonging to a category all its own. The characters are fascinating, the take on sirens and on their tenuous/hostile relationship with humans is well-explored, and whether reading a quiet scene or one chock-full of action, there wasn't a single moment I felt bored or uninterested. I'm definitely looking forward to seeing where this series goes.
Well, that's all for this entry!  So in the meantime, feel free to become acquainted with these authors and their works, and I'll be back with more author appreciation next week.
Thanks for reading; ta-ta for now! ^^